Toads
Series Series 04 Episode 2, Episode {{{number}}}

Air Date
4th February 2015
Previous
Ghost
Next
Theatre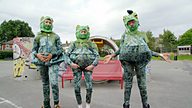 Toads is the second episode of the fourth series of the Cbbc show 4 O'Clock Club which was first broadcast on 4th February 2015
When Nero loses the school's pet toads, a hunt begins to look for them. When Nero and the gang are led to believe that Miss Andress is going to send the toads to a factory to be experimented on, Nero, Eli and Owen stage a protest.
Akai Osei as Nero Johnson
Jade Alleyne as Clem Burton
Grace McIntosh as Eleesha Rahad
Chloe Davison as Fleur Murphy
Lewis Brindley as Eli Grant
Daniel Kerr as Owen Garland
Simon Lowe as Crispin Bell
Jason Callender as Dexter Harris
Liz Hume-Dawson as Anita Andress
Layton Blake as Isaac Rodgers
Sarah Schoenbeck as Lizzie Baker
Ad blocker interference detected!
Wikia is a free-to-use site that makes money from advertising. We have a modified experience for viewers using ad blockers

Wikia is not accessible if you've made further modifications. Remove the custom ad blocker rule(s) and the page will load as expected.